Matricaria discoidea, commonly known as pineapple weed, grows as a common herb in fields and gardens. They can grow in compacted soil where pores in soil are not large. The best time of their growth is in summers and early spring. They also grow near the roadside. It has a bud and a cone-shaped, composed of a yellowish-green packed floral envelope. It also has a small green stem to which the cone-shaped bud is present. Their seeds are edible, whereas the green part and the whole plant are used to prepare herbal teas. They also prepare herbal medicines. The plant grows 2 to 16 inches tall, whereas the floral head grows between March and September in summers and early spring. 
This plant can withstand even extreme weather and environmental conditions. It prefers to grow in poorly compacted soil with proper sowing and watering.
Pineapple Weed Uses
Pineapple weeds have several uses, especially in the medical department. The medical usage includes treating gastric issues, infected sores, flu, fever, and even menstrual pains. In parts of America, some native Americans also use pineapple weeds in perfumes, insecticides or pesticides, and also some jewelry. They have got the best herbal treatments as well. These herbs are utilized in some medicines too. It is very delightful to see that the pineapple weeds are also edible. Not only this, but its whole plant is used to prepare luscious herbal tea. The tea can be easily prepared by just pouring a handful of young flower heads in a cup of hot water, draining it, and is now ready to drink.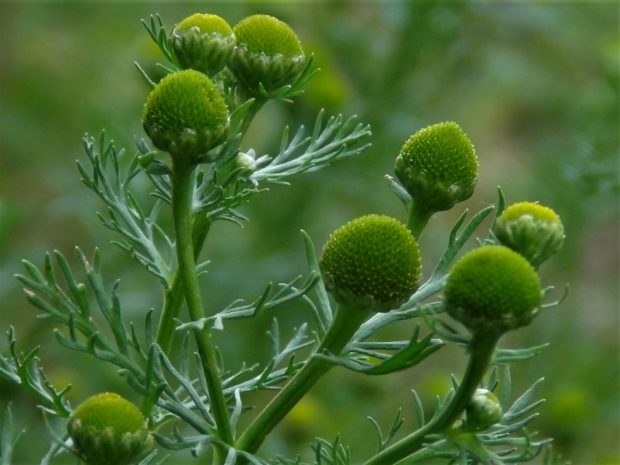 Pineapple Weed Tea
Pineapple weed tea tastes similar to that of pineapple fruit. It strongly smells like pineapple. It has a delectable sweet taste similar to that of chamomile tea. It is easy to make this tea, pour hot water over the pineapple weed flower, drain it, and get ready to drink. Herbs are always good for our health especially, for our stomach digestion. Herbal teas are very soothing and pleasant. They automatically relax our minds and body. It detoxifies our body and keeps us hydrated. It has a refreshing sweet taste and is more preferable among ginger, green, and chamomile tea. So, this tea is one of the favorite teas.
Pineapple Weed Seeds
Pineapple weed seed is a common garden weed. It has become a frequent weed of intensive vegetable weed. Based on seed character, the pineapple weed seed persists for about five years in the soil. Proper sowing and enough watering help in their growth. These seeds are very light and can be dispersed easily by wind and even bypassing traffic. The growing months are typically between March and September. The seed germination is done in sunlight, and just a splash of water is enough for the seeds. The seeds are very light in weight, and the 1000 seed weight is 0.13 grams. The average seed number per plant is 850 to 7000. Pineapple weed is now common throughout the United Kingdom, and its production is still increasing on tracks, paths, and cultivated lands. The small tender floral buds are tasty and added to salads, prepared as tea, and eaten raw.
Pineapple Weed Growth
Pineapple weeds were first introduced in the United Kingdom. Their growth then rapidly increased over the last 25 years. It grows in not only cultivated lands but also near roadsides throughout most of England. Pineapple weed occurs in cereals and broad-leaved crops. It has now become a frequent weed of vegetation crops. The seedlings emerge from the top 0 to 100 mm of the soil, with the majority arising from the soil's surface 5mm. The best way to grow a pineapple weed is to properly sow the seeds and water, which should not be frequent. As the seeds are very light in weight, they are easily dispersed by wind blowing. Genuine care is needed to sow the seeds. Not frequent watering is necessary for germination.
Pineapple Weed Cultivation
Pineapple weed is commonly known as Matricaria discoidea. It is mainly found in areas of the UK. It grows in almost any kind of soil, in cultivated lands, and even around the roadsides.
It is widespread in the UK that its growth is increasing rapidly. It has so many benefits, especially when medication is concerned. Its herbs are to prepare medicines that help in improving health. Seedlings and larger plants should be controlled by proper cultivation and hand weeding to prevent seeding.