Dampwood spiders are one of the species of the family of Termopsidae. There are many other termites which belong to this family, but dampwood spiders are the biggest of all. They reside in areas of high moisture content. Dampwood termites generally do not cause as much damage to human-made structures, just as drywood termites. However, dampwood termites can weaken home structures by knocking out support beams, which can require costly repairs.
These termites can be avoided by removing rotten wood structures, repairing any plumbing leakage, and treating the area with products that contain borate.
What are Dampwood termites?
Dampwood termites, also called rotten wood termites, belong to the Termopsidae family. They are usually found in areas of high moisture content, inside decayed wood pieces, inside fallen logs, tree stumps, old buildings, and other wooden structures like doors, windows, fences, etc. To keep themselves active and for their survival, they have to keep themselves near humid areas and places where there is ample amount of moisture content.
They are larger than the dry wood termites and other termites, and they also bear larger heads. They live and build small colonies rather than bigger ones.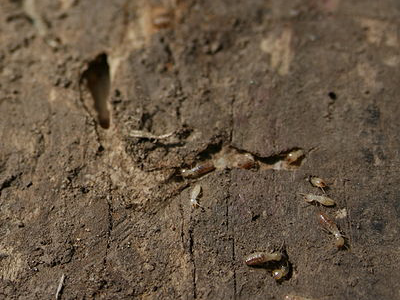 Dampwood termites Facts
Dampwood termites are more massive than dry wood termite and underground termite but usually form smaller colonies. Dampwood termites have large heads with front jaws.
Some facts about the dampwood termites include.
To survive, these termites need high humidity and regular contact with water.
Dampwood termites do not usually nest in soil but seek wood with a high moisture content to create their habitat, often nesting in partially buried wood such as tree stumps or fallen branches.
 To stay hidden and retain moisture, they block the inlets with their faeces, blocking the passages in which they live from the outside air.
As with other termites, dampwood termites undergo incomplete metamorphosis, and nymphs are very similar to adults in appearance, gradually moulting to take on their full adult appearance.
This species does not have a worker caste, so larvae do the work in the colony.
Soldier species of dampwood spiders have a flattened brown head with long dark brown/black jaws, and soldiers can be up to 20 mm long.
The winged ones are dark brown with four pairs of brown wings of equal length. They can be up to 25mm long, including wings. Th
 Nymphs are cream in colour and have a mottled pattern on their belly caused by the presence of food in the intestines.
 Dampwood spiders have specialized digestive organisms which help them to digest wood.
Dampwood termites swarm in small numbers at different intervals per year. Their swarming is affected by light, humidity, temperature and atmospheric pressure.
Old gutters filled with leaves can cause moisture to build up in wall cavities, which is also an attractive habitat for dampwood termites.
The fibre found in plants is the staple food of all termites. Dampwood termites feed on rotting wood and other cellulosic materials that are digested by supporting symbiotic protozoa and bacteria. Food sources can be found in furniture and other areas of the home, in rotten trees, and other structures with high moisture content. They can also eat injured colony members and other termites in the same habitat.
Dampwood termites Traps
Since dampwood termites need moisture for their survival, so the critical element to avoid dampwood termites is identifying and eradicating any water issues inside or around the house, other wooden structures etc.
Dampened wood structures or wood lying on the ground also attracts dampwood termites.
Replacing the dampened wood and treating the bare wood with products of borate can help trap these irritating termites.
Dampwood termites Treatment
But still, if you were not able to avoid them and they have finally invaded your home, then you must observe the signs of an infestation which are shedded wings of the termites, holes in the wood structure, damage caused to wooden frames such as if the wood is finely sandpapered, piles of faecal pellets, dyed to match the colour of the wood being eaten, have an elongated shape and rounded ends, in contrast to the flat surfaces of dry wood termite pellets.
To cope with the problem, it is necessary to reduce the humidity in the infected areas. Humidity can be avoided by repairing any leaking area of plumbing, increasing air flow, making sure drains are working, and adjusting structures to minimize water contact with wood and soil.
Products that contain borate can help to treat structures that are invaded with dampwood termites.