Lomandra Breeze Grass is a tough grass-like plant useful for gardeners, farmers, or homeowners, especially in the urban area. It is commonly known as Matt Rush. They bloom with dense, extensive plants and can grow both in the open sun and in ample shade. Their matting roots uphold the soil and retain nutrients, making them ideal for buffering and beach planting. You can grow Lomandra Breeze Grass by planting the seeds, and it is perfect for growing at home.
The beautiful look and feel of Lomandra Breeze Grass is an impressive addition to any home garden. They can be used as boundaries for paths and garden edges. Lomandra Breeze Grass is a great option if you combine a binding wall or deck with the rest of the garden. They are also effective as a foundation plant against the house, provided they grow only three feet tall and remain evergreen.
Lomandra Breeze Grass Spacing
Lomandra Breeze Grass grows about 24″ to 40″ inches both in length and in width. So it is better to plant them with 2.5 to 4 feet center to center distance, in this way. The spacing between the plants will provide the plant with ample area to flourish and help the plant not grow into each other, which may destroy their ornamental beauty.
Lomandra Breeze Grass Pruning
Lomandra Breeze Grass is a perennial grass. It can bear a broad range of harsh weather conditions. Once it is grown, it is mostly maintenance-free and is capable of blooming in various soil conditions. Since they are maintenance-free, they do not need pruning on an annual basis like other ornamental plants. Despite this, you can cut them after every 4 to 6 years during the spring season, which will improve their shape and health. During extreme winter and severe wind conditions, the leaves may damage due to frost, so it is better to cut the leaves to about 6″ inches from the ground. You can cut the Lomandra Breeze Grass in a ball shape, which will improve their ornamental beauty. After pruning, do not forget to apply liquid fertilizer, which will encourage regrowth. If you wonder what to do with the clippings, the native Aborigines in Australia weaved baskets out of the grass blades.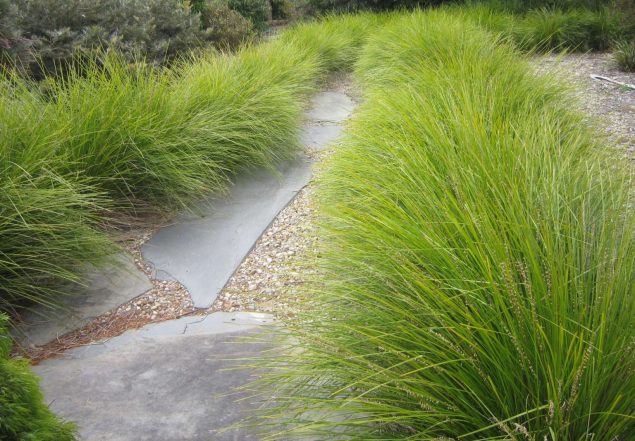 Lomandra Breeze Grass Care
Lomandra is a hardy plant and can be used for a variety of purposes. In Australia, Lomandra has proven itself in urban areas for decades. It is often used in central, on the streets, and other urban areas where it is exposed by fire from pave and roof and unhealthy air and fewer water conditions. Lomandra Breeze Grass needs a good start, and it will take care of itself on its own. They need average water, and they will grow in a fuller and more lush plant.
Lomandra Breeze Grass Size
Lomandra longifolia is an evergreen plant that originated in Australia. It is commonly known as 'Lomandra Breeze Grass'. As the name suggests, this plant has long, curved leaf blades, and its leaves will gently float with the slightest breeze. Lomandra Breeze Grass is a slow-growing grass-like plant capable of tolerating drought conditions and blooms in full sun or ample shade. Lomandra looks like an ornamental herb with bright green narrow strap-shaped leaves. Once planted, it has proven to be very hardy and will retain its evergreen leaves in temperatures below 20 degrees.
The leaves of the Lomandra Breeze Grass grow to a height of about 24 to 40 inches and spread over the same distance. It may grow up to 4 to 5 feet after a life span of 4 to 5 years. Therefore, it is advised to plant them with a distance of 2.5 feet between them to not grow into each other.
Lomandra Breeze Grass Height
Lomandra Breeze Grass would be an excellent choice, both aesthetically and functionally. When planted in larger amounts, Lomandra Breeze offers a unique color and texture of pine green color. It can grow in any soil type and blooms in full sun and shady conditions. It is about 24 to 40 inches in height when fully matured.
Lomandra Breeze's thin and curved leaf blades can also be grown in containers. You can grow Lomandra in a tall container that will showcase its ornamental beauty. Choosing a tall container will help the plant roots grow in full swing; otherwise, the plant roots will not grow to their fullest because of less space. You can also take it out of the container and plant it back in your garden.