If you are looking for the best and effective wettable powder, then Cynoff WP would be perfect for you all. After using this magical product, you will assuredly get rid of all sorts of pests and will be confidently able to recommend this product to others. Hopefully, it will not disappoint you. So, you need to proceed reading further to get all the relevant information regarding this unique pesticide.
What is Cynoff WP?
Well, the wettable powder is a type of insecticide, which is shipped and manufactured in the form of powder. It is mixed with a particular quantity of water when being applied or sprayed on any surface. Cynoff WP is one of the best and most rated wettable powder insecticide used to kill almost all types of pests. Cynoff WP is an amorphous insecticide of white color that is mixed with water when being used. It contains 40% of an active ingredient in it named Cypermethrin.
Cynoff WP safety
While using any chemical product, make sure to follow all necessary safety precautions. Some safety tips to follow while using this product are listed as follows.
● While handling Cynoff WP, do not forget to wear gloves and other necessary clothing so that your skin and other body parts are not exposed to this pesticide because it might cause irritation and rashes.
● Make sure that you remove all the clothing which you have worn while using this pesticide because it might enter inside your clothes and come in contact with your body you never know.
● If someone has inhaled this powder accidentally, then move that person into the fresh air.
● If you have accidentally swallowed this pesticide, then immediately consult your doctor and do not induce vomiting until and unless you are told by your doctor to do so.
● If this pesticide comes in contact with your body part, rinse that part thoroughly with water and soap.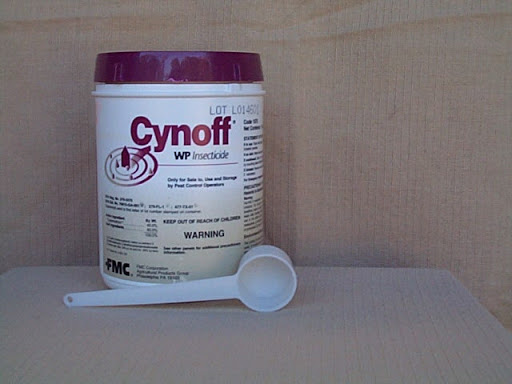 Cynoff WP reviews
People are super satisfied with the working of this pesticide product. Many people have recommended that this wettable powder is way better than calling a Pest Control Company at your place. It is capable of killing pests instantly and is considered as one of the best stuff for this purpose. This pesticide leaves milky white residue where sprayed, but overall, people have no complaints regarding this product. Most people have rated 5 out of 5 stars in the rating section of this product showing the satisfaction of people regarding this pesticide.
Cynoff WP mixing instructions
Cynoff WP pesticide either comes in pre-measured packs or with measuring spoons. Once you have bought this miraculous product, now all you have to do is to fill a spray bottle with the optimal volume of water and after adding wettable powder in it, shake it thoroughly. Note that for insects such as ants, roaches, biting flies, centipedes, millipedes, sowbugs, pillbugs, silverfish, mosquitoes, beetles, earwigs, crickets, boxelder bugs, elm leaf, firebrats, fleas, and flies, you need to mix 0.33 ounces of Cynoff WP per 1 gallon of water. But for insects like bees, ticks, wasps, spiders, and stink bugs, add 0.66 ounces of Cynoff WP per 1 gallon of water. Apply this mixture of water and Cynoff WP to porous surfaces such as concrete, brick, unfinished wood, near doors, on exterior windows, in weep holes, in cracks and fissures, and all those places from where pests might come. Keep this thing in mind that since this is a water-based pesticide, it will leave some milky white residue where it is sprayed.
 Cynoff WP label
The Label of a product includes detailed information about that product which the user should know. Before using any product, you should give a nice go through to its label. The label of Cynoff WP contains some precautionary statements listed below.
● Do not refill or reuse the container of this pesticide product.
● Keep this pesticide out of access to animals and children.
● Any waste must be disposed of immediately, resulting from this product.
● Keep this pesticide in the original container; do not transfer it to other containers.
● After using this pesticide close the lid tightly.
● This product is highly toxic to marine life.
● Do not use this product near the feed or food areas.
● Do not use this product in aircraft or cabins.
● Do not apply this product to those surfaces where water is present.
According to the label of this product, keep this pesticide in a dry, cool place and protect it from an excess amount of heat or sunlight. The net weight mentioned on the label of this product is 1 pound. You can use this pesticide in all industrial buildings, rural areas, and urban areas. It can also be used outside, in gardens and lawns. The label also says that this product is not available for use in California.