The Broadmoor juniper is characterized by a dense cluster of branches that gracefully spread across the ground. It attains a height of 2 to 3 feet and a horizontal spread of 6 feet or more. This Juniper evergreen ground cover is great for slopes and low-maintenance environments.
The Broadmoor Juniper is a magnificent low-growing coniferous shrub with elegant branches that fills available space attractively with its rich dark-green foliage. Broadmoor is particularly well-liked for the delightful pine-scented fragrance it generates, making it a great candidate for planting along walks and patios where its aroma is appreciated.
Broadmoor Juniper Growth Rate
The Broadmoor Juniper develops into a large, spreading mound of leaves that reaches a height of up to two feet and a width of up to eight feet or more over time. The strong stems extend across the ground horizontally, while shorter, vertical branches extend upwards from them to provide height. 
This juniper features an average growth rate, making it suitable for covering a wide area quickly. This plant thrives in coastal environments. The evergreen foliage is attractive throughout the entire year. It tolerates heat and cold well.
This plant does not produce any obvious flowers, but it is capable of producing fruit that a variety of birds and other wild creatures find irresistible. This plant is frequently utilized in both home and commercial landscaping.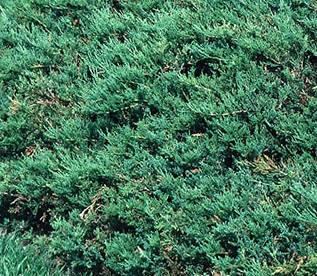 Broadmoor Juniper Care
The Broadmoor Juniper thrives in a site that receives full sunlight, but it is not resistant to spending some time in the shade each day. It is constantly grown in well-drained soil, making slopes and banks ideal places. Allow 4 feet of space between plants when planting in large areas to ensure a dense cover after only a few years. Any kind of soil, including thick clays, rough gravels, sand, and limestone soils, support its growth. It does not grow in moist soil, however, it is less sensitive to juniper blight (Phomopsis) than most other types. Wet, poorly-drained soils are especially susceptible to root rot.
It is rarely disturbed by weeds or diseases, and even herbivores like rabbits and deer tend to avoid it. This plant thrives in urban areas and is among the simplest to cultivate in the garden, needing little maintenance to maintain a beautiful appearance. Allow it to spread to avoid pruning. If it is necessary to prune it, cut it back to a shoot that is located on top of the main stem. This hides the cut and allows new growth to emerge more rapidly. It is advised to avoid pruning barren branches because they never grow new shoots.
Broadmoor Juniper Zones
The Broadmoor juniper is used in a variety of settings, such as a focal point in front of a bed, mixed in with other shrubs, or hanging down a hillside. It overflows walls and covers banks. It softens the barrier between plant beds and hard surfaces such as roads and patios. It is often used as a foundation plant around your home, underneath tall windows, or on the rocky ground among boulders. It always flourishes in mountainous regions and areas with inadequate soil. Wild plants are highly variable; sometimes they are elongated, and other times they grow to a height of 15 feet.
This plant does exceptionally well in any type of garden setting. It is an excellent option for use in cooler zones, all the way up through zone 3, which is the point at which the variety of plants available starts to decrease. It is also hardy to zone 7, however in warmer regions, other juniper varieties with greater heat tolerance are preferred.
Broadmoor Juniper Problems
Many pests, such as insects and mites, attack junipers. Juniper is plagued by arthropods including caterpillars, aphids, and spider mites. One typical pest issue with junipers is bagworms. Watering junipers is recommended during dry seasons because they are commonly planted in arid areas.
The Broadmoor juniper is planted in full sun or light shade. It cannot thrive in the shadows. Once it's established, it can withstand dry conditions with ease.  It is often advised to use only compost on junipers because artificial fertilizers tend to overfeed plants with nutrients. It is also able to withstand juniper blight.