The night glow Diervilla, also called Diervilla splendens El Madrigal nightglow, is an easy-to-grow shrub that grows well in many different places. It is renowned for its vibrant, bright yellow flowers and dark, deep burgundy foliage. Diervilla Splendens is a cultivated hybrid bush honeysuckle produced by crossing D. sessilifolia with D. lonicera. This deciduous shrub reaches a height of 4 to 5 feet and a spread of 2 to 3 feet. In the summer, terminal clusters of tubular yellow blooms appear. 
Nightglow Diervilla plants feature colorful flowers and dramatic foliage that stand out against the rest of the landscape. They are great for use as low hedges, accent plants, and foundation plantings because of their compact size. They thrive in both natural environments and artificial ones like pots. It features deep purple, red-variegated foliage that emerges burgundy in the spring and eventually turns coppery-bronze. The pointed leaves possess a strong decorative value and transform into an eye-catching scarlet color in the autumn.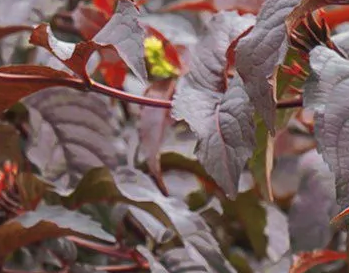 Nightglow Diervilla Size
This is an erect, multi-stemmed shrub that exhibits a mounding appearance. It measures between 2 and 3 feet in height and width at its greatest. It's a deciduous tree that can survive in zones 4–9. It tolerates dry and clay environments and is typically neglected by deer. Nightglow's small size makes it suitable for use as a colorful focal point in foundation planting, a colorful accent in a low hedge, a colorful focal point in an accent area, or even in a container.
This tiny shrub is drought- and shade-tolerant and boasts clusters of sulfur-yellow flowers in the spring and summer. The foliage is dark reddish-purple in the summer and turns a more brilliant crimson in the fall. Both butterflies and bees are attracted to the trumpet-shaped, yellow flowers. When placed next to plants with golden or chartreuse foliage, this hardy small shrub, which blooms from spring to summer, looks stunning.
Nightglow Diervilla Care
Nightglow Diervilla plants normally require little care. Nightglow Diervilla grows in full sun to moderate shade, although more sunshine improves foliage color and flowers. The ideal location for these Diervilla plants receives at least five hours of direct sunlight per day.
Diervilla plants thrive on soils that are slightly acidic, medium to high in moisture, and well-drained. The ideal pH range for these soils is between 5.0 and 7.0. Despite this, they are not particular about soil conditions. They thrive in a wide variety of soil types, whether dry or wet, as long as there is adequate drainage. These plants exhibit minimal water requirements and are highly drought-resistant once established. It's common for nightglow Diervilla plants grown in outdoor pots and baskets to need more regular watering than the same plant would in the ground.
Even while nightglow Diervilla is hardy enough to flourish in dry, infertile soils, the size and number of flowers it produces are mostly maximized by adding fertilizer. For nourishing these beautiful plants, liquid fertilizers work best, but granular or stake-type fertilizers also work. To promote healthy plant growth, it is advised to apply a well-balanced organic fertilizer in the spring. When growing Nightglow Diervilla as a low hedge or thick groundcover, it is recommended to space the plants about 2 feet away from one another. In the case of accent planting, the spacing can be increased to at least three feet.
Nightglow Diervilla Pruning
Nightglow is able to keep its naturally compact and mounded shape without requiring excessive amounts of pruning. During the beginning of spring, prune the tree to remove any branches that are diseased, damaged, or otherwise irregular. Since bush honeysuckle develops on new wood, it is safe to prune without fear of destroying next year's buds.
These shrubs require occasional pruning despite their small size. When there is no danger of frost, late winter or early spring are the ideal times to prune night glow Diervilla. They are quite prune-tolerant, and they are mostly pruned up to 6 inches.
Nightglow Diervilla Bloom Time
These plants produce eye-catching trumpet-shaped yellow flowers in late spring and early summer that contrast with their reddish-purple foliage. Typically, the leaves emerge a burgundy color in the spring, lighten to a purplish red in the summer, and then grow more vibrant with deeper purplish reds and scarlet oranges in the fall.
Butterflies and bees like these flowers nearly the same way gardeners adore the foliage's vibrant hues. In a pool of foliage, the hues of maroon, chocolate, and pale blue stand out, and as the season passes, the colors grow even more vibrant.