This Fall Fiesta Sugar Maple (Acer Saccharum 'Bailsta') is a patented cultivar selected at Bailey Nursery in Yamhill, Oregon, in 1987 from a batch of seedlings. It was selected due to its rapid growth rate, erect, symmetrical form, and drought- and wind-resistant leathery leaves.
The Fall Fiesta is a superb shade tree with a rich, rounded crown; it retains its form and requires minimal pruning. It has great winter hardiness from USDA Zones 3 to 8, and its fall color may include more oranges and reds than other sugar maple cultivars. Pest and disease problems are rare in healthy trees.
Fall Fiesta Sugar Maple Pros and Cons
Fall Fiesta is an excellent choice for regions that have hot, dry periods during the summer or early fall because it can still produce superb color under less-than-ideal conditions. The spectacular fall color and dense foliage make this tree a great shade tree for a lawn or other open space. In addition to its usage as a landscape tree, its high growth rate and expected lifespan of more than 150 years make it a suitable option for use as a roadway tree.
Autumn Fiesta is best in slightly acidic soil but can tolerate a wide range of pH. It is also susceptible to manganese deficiency if grown on soils with a high pH. It has a moderate degree of sensitivity to pollutants in the air. Like other trees, it thrives on moist, well-drained soils with appropriate watering.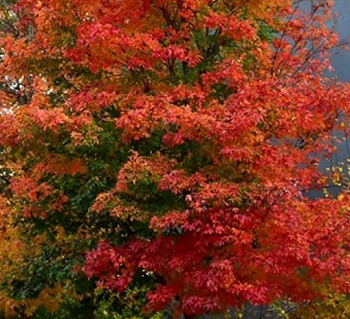 The roots of Fall Fiesta are deep and spread out, so it does best in bigger planting spaces. Sugar maple is susceptible to root girdling, therefore during planting, examine the stock and remove any circling or girdling roots.
In summary, the benefits of Fall Fiesta Sugar Maple include more vigorous and symmetrical development compared to pure Sugar Maple, as well as thicker leaves that provide good resistance. It also requires little pruning to maintain its shape and is often trouble-free. Nonetheless, it is susceptible to several insects and diseases that can be avoided or treated by taking good care of the tree.
Fall Fiesta Sugar Maple Growth Rate
At maturity, the Fall Fiesta Sugar Maple grows to a height of approximately 70 feet and a width of approximately 50 feet. It is not planted beneath power lines because its foliage canopy is rather high and sits much above the ground. The tree's lower branches can be pruned away as it grows older to provide room for a high enough canopy to allow people to walk freely underneath. It mostly grows at a medium rate and is anticipated to live for 100 years or more under optimal conditions. 
A sugar maple's growth rate is typically described as slow to medium. This tree needs full sunlight to thrive. It grows best in moderate to moist conditions and is not allowed to become dry. It is not sensitive to soil pH but thrives in rich soils. It can deal with some of the pollutions in cities. This is a sample of a native species to North America. It is essential to keep in mind that the rate at which this tree grows can often change based on some factors including the climate, the conditions of the soil, and the amount of care that is given to it.
Fall Fiesta Sugar Maple Diseases
Fall Fiesta Sugar Maple trees are highly pest and disease resistant.
However, if the tree's leaves are not well maintained, they are susceptible to a few diseases.
The Fall Fiesta Sugar Maple tree is susceptible to several diseases, some of which are listed below:
The illness known as verticillium wilt is caused by a fungus that destroys the tree's roots and prevents water from moving freely throughout the tree. This can cause the leaves to die. Yellowing of the foliage is an obvious sign of the disease. Growth is slowed, and the bark is discolored.
The leaves get powdery mildew from the Phyllactinia fungus. The potential for harm is limited, but the tree's appearance can suffer.
Cankers can form in the bark of the major branches and trunk. As a result, the branches eventually wilt and drop their leaves.
Other diseases that can potentially harm the tree include leaf spots, tar spots, and anthracnose.
If the tree is well-cared for, these illnesses can be avoided or treated before they become a problem.